JC&MB Quicknote History

I originally conceived Quicknote while developing the computer game Hotel in 1999 together with a friend. As Hotel was running in fullscreen mode and changed the resolution, I could not use Notepad to write down notes while testing the game. Quicknote with it's wake-up line was ideal for that situation.



Febuary 14th, 2010: Version 5.5 (newest version):
New wizard to package Quicknote's settings, notes and reminders to copy to another computer or for backup purposes Reminder possibility: Remind the last/2nd last/... day of the month
Feature "Send texts via a network" now supports to send files additionally.
Search and replace supports regular expressions
Reminder's tasks that occurred during energy saving mode are not forgotten any more
Easier to create a new Quicknote form the Main note's contents: Just drag & drop the main note into a category
Windows 7 and 64 bit compatibility improvements
Main note: Question whether to save its content on shutdown was disturbing as it stopped shutdown. Its contents are now saved automatically on shutdown and restored after restart
Search dialog keeps last check box settings
Unit converter: added formats for geo-coordinates, added mmHg to pressure category
Added URLEncode/Decode to calculations window, as well as character case changes
Insert text from screen: New kind of text extraction using Windows Accessibility API. Useful to extract text e.g. from Java applications
In case it is possible to remind of missed reminder's task, this checkbox is activated by default
Text editor: Pressing Page up/page down in case the cursor is already at the top most page sets the cursor to the very first/last position
Improved behavior with regard on double clicking on URLs in text that contain separators as question marks, hyphens or percent signs
Double click on URLs in Quickbar opens them as well
Search window: pressing escape to close it made Quicknote go into sleep mode. Now the search window is closed when escape it pressed
Saving a quicknote under an external file: correctly change caption and selected note in the category view
Reminder times: Remind at the start of the computer is now default selection
Improved startup position of Quicknote when using two monitors
When deleting reminder's tasks: automatically select other one in list
Bugfix: Two reminders for the same time: Only one was fired
Bugfix: Change of decimal separator could cause problems with font size
Bugfix: Printing did not work correctly if line length exceeded a specific value
Bugfix in relation to note names when using Quicknote with foreign character sets
Other bugs, inconveniences, unnecessary memory usage, cosmetics...
December 2nd, 2007: Version 5.4:
New Language: Romanian
Online video demonstration of Quicknote's abilities and how to use it for new users. Accessible by choosing "Help" in the main menu.
New QuickText box in the B-Bar to contain small pieces of text not logically fitting into the current note (e.g. phone number). Can be associated with Windows Toolbars or Vista Sidebar!
Unlimited number of reminder's tasks and categories (previously constrained to 50 and 10)
New possibility to be reminded: When idle for x minutes
For reminder's tasks that can occur multiple times a day, you can say that they should not be displayed again that particular day
All Quicknotes in the category view can now be set to be saved encrypted. Password needs to be entered when first opening the notes and it will stay unlocked until you lock it again or quit Quicknote
Window "Insert -> Text from screen" has more possibilities: It can read information from TreeView and ListView window classes, e.g. when all entries of a list are needed in text format.
Option to start Quicknote not in sleep mode but directly opened
Possibility to read the text, provided a speech engine is installed
Focusless input mode: Everything that is written in other windows can be set to appear into Quicknote as note as well.
Images can be added as notes
When receving texts via network, there is a notification (window blinks in taskbar)
MRU List for destination of text which is sent over network.
Added autocomplete functionality for all textfields where a filename can be entered
Added possibility to specify parameter in "tools" - "add own programs"
Added base64 to calculations
Added "units of information storage" to unit converter
It is possible to indicate missed reminder's tasks for tasks in the form "Every year on the 10th of May"
Deletion of Quicknotes needs to be confirmed now
New Hotkeys: Ctrl+R for reminder, Ctrl+N for "new Quicknote", Ctrl+Shift+N for "new Category"
Fully Vista-Compatible, implementation of Vista volume control; in 5.3 Quicknote only changed its own volume level, not the master volume level.
When option "Show in taskbar" is activated, Quicknote will not be in taskbar when in sleep-mode
It is now saved whether the categories were expanded or collapsed and this state is restored after restart
It is saved after restart whether Quicknote's textbox was locked or not
The cursor position in each note is remembered in a Quicknote session while browsing notes
Child notes of a category can be automatically sorted alphabetically
Drag&Drop of a file directly into a category allows to quickly add it as external note
Calculator item in Tools-Menu is moved to "own programs" - you can delete or modify this entry
Possibility to officially deactivate the (very seldom appearing) donation screen
Fixed bug: Transfer of large texts via network: Text had carriage return signs everytime the text is going beyond the TCP/IP Packet size
Fixed error with conversions of decimal numbers to binary (decimal: 1.5 = binary 1.1)
Fixed some bugs mainly related to the category view not saving changes
Improved rot 13 calculation speed which was slow when texts exceeded some length
Other bugs, inconveniences, unnecessary memory usage, cosmetics, better ergonomics...
September 28th, 2006: Version 5.3: New Features:
Improved category view: All Quicknotes and categories can now freely be renamed and their order changed by Drag & Drop.
Searching through all Quicknotes is possible
New unit converter and changes in 'calculations' window
Possibility to go automatically into sleep mode when Quicknote loses focus
New tool for measuring pixel distance on screen
Option not to show volume scale when using volume hotkeys
Option to show the date and time in the title bar
Quite a lot of smaller improvements and additions as well as bugfixes
November 13th, 2005: Version 5.2: New Features:
New languages added: Spanish and Swedish
New possibility to organize the Quicknotes in a tree. This enables quicker access and better organization of the notes in categories.
Option to reset the focus to the window that was active before going into sleep mode
New items in Conversions window, including new checksum and hash algorithms
Improved memory management
A lot of smaller improvements
January 10h, 2005: Version 5.1: New Features:

New languages added: French, Dutch and Polish
New dialog box when saving or opening encrypted files, including a new encryption format 3 based on the RC4 algorithm
Possibility to export the reminder tasks to another computer
Possibility to open Internet URLs in the text when double clicking them
Option whether to show Quicknote in the task bar or not
Possibility to activate text receiving automatically and to send texts using windows messaging service
Possibility to lock a note
After wakeup the text cursor in the note is located at the same place as before going into sleep mode
More smaller improvements

28th July 2004: Version 5.0: New Features:

Completely new reminder with:
-indication of missed reminder's tasks
-date picker
-advanced date preferences
-sound file for each task
-reminding in certain intervals
Possibility for up to 99 quicknotes, that are saved automatically
MRU lists for "search" and "run"
New unit conversions
Text insertion directly from the screen (e.g. out of dialog boxes)
A lot of further improvements

7th February 2004: Version 4.6: New Features:

You can wake up Quicknote with Hotkeys instead of the wake up line, or together with the wake up line
Texts can be sent to another computer via a network
The focus can automatically be set into the text box to be able to start typing immediately
Selected internet URLs can be opened when selected
You can use the spelling check of Word
Quicknote is in the Alt+Tab menu
Further improvements and bugfixes

6th august 2003: Version 4.5: New Features:

The options are all in a common window, clearly arranged
The "B" bar is moved to provide better accessibility to the different features
It is possible to delete reminding tasks as soon as they are displayed
The last opened file can be shown at the next start
The interval of automatical backup saving can be changed
You can change the directory where the temporary notes are saved
New tool: HTML color converter
Many other improvements

9th March 2003: Version 4.2: New Features:
Unit Converter
you can save the drawn pictures
you can choose the note that should be shown at the beginning
you can enlarge the caret
other improvements

Version 2.1 to 4.2: See german history site.

Quicknote Ver. 2.0 (August 2000)
Quicknote is avaialable for download on my website. Only aout 3 downloads a week.
It is possible to change the size of the wake up line in the options and to choose form different given colors. Printing is new.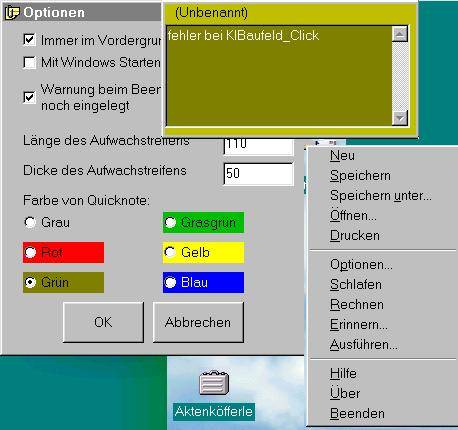 Quicknote Ver. 1.0 (December 1999)
Quicknote is only consisting of a textbox and the wake up line. There is no option window. Items in the main menu were "always on top" and "run with Windows". Is was not yet avaialble for download.
---
Copyright © Jens Müller 2007